2020 Was a Game Changer for Online Recovery
When the Coronavirus pandemic prevented almost any kind of public gathering, people quickly sought alternative ways to do almost everything – work, connect, manage their health needs, participate in recovery groups. As a result, telehealth, once considered "alternative," experienced massive growth in 2020. Included in that growth was online treatment for substance use disorders. 
Here at Lionrock, client enrollment more than doubled from 2019 to 2020, and it continues to grow. Clearly, seeking online treatment for substance use disorders is becoming the norm. 
Recently, we released our first Lionrock Monitor: a look at the growth patterns in the online recovery world. There are some interesting patterns to note based on both age and gender: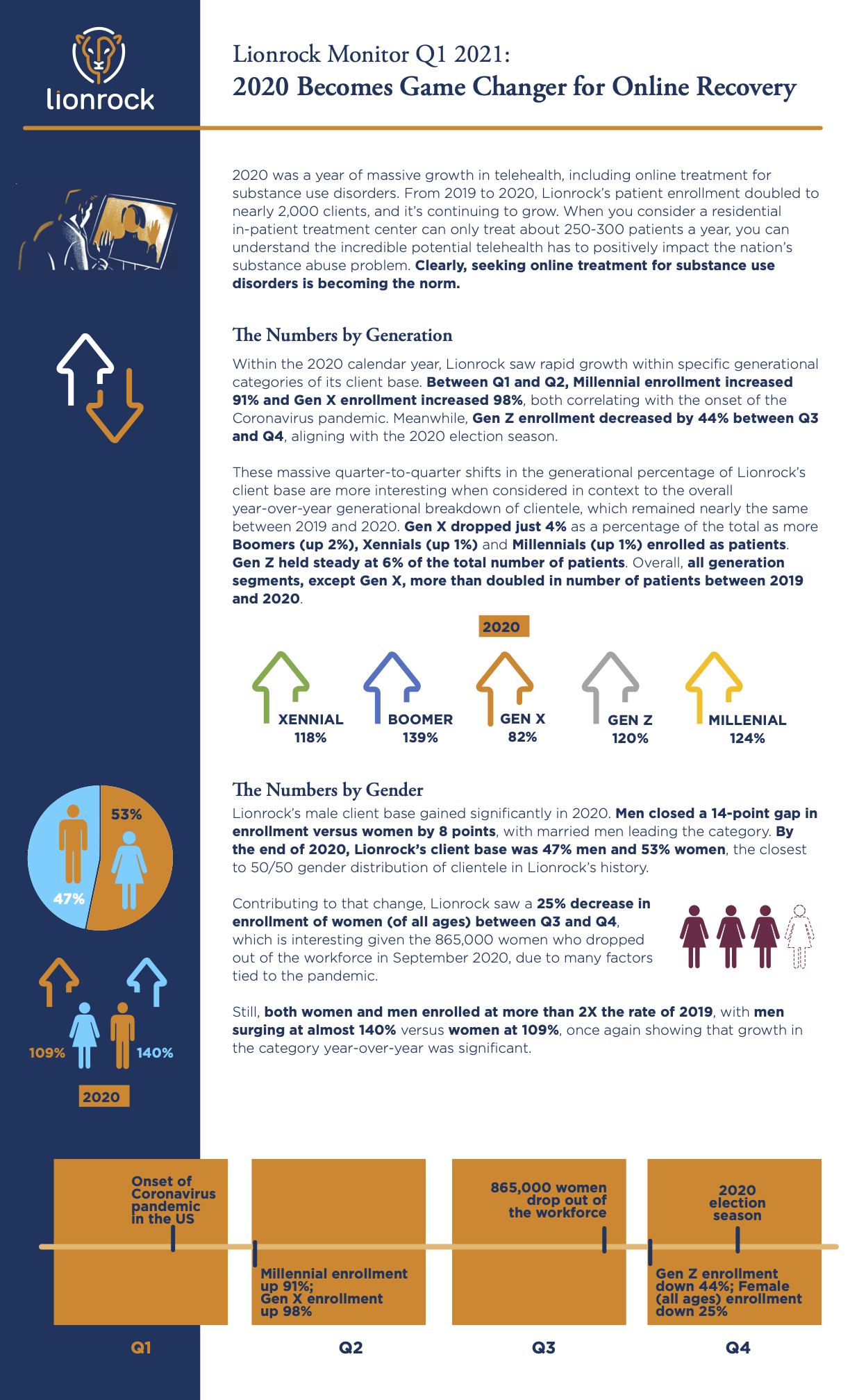 First, age. Within the 2020 calendar year, Lionrock saw rapid growth within specific generational categories of its client base. Between Q1 and Q2, Millennial enrollment increased 91 percent and Gen X enrollment increased 98 percent, both correlating with the onset of the Coronavirus pandemic. Meanwhile, Gen Z enrollment decreased by 44 percent between Q3 and Q4, aligning with the 2020 election season. These massive quarter-to-telehealth has incredible potential to positively impact the nation's substance abuse problem. Quarter shifts in the generational percentage of Lionrock's client base are more interesting when considered in context to the overall year-over-year generational breakdown of clientele, which remained nearly the same between 2019 and 2020. Gen X dropped just 4 percent as a percentage of the total as more Boomers (up 2 percent), Xennials (up 1 percent) and Millennials (up 1 percent) enrolled as patients. Gen Z held steady at 6 percent of the total number of patients. Overall, all generation segments, except Gen X, more than doubled in number of patients between 2019 and 2020. 
Regarding gender, Lionrock's male client base grew significantly in 2020. Men closed a 14-point gap in enrollment versus women by 8 points, with married men leading the category. By
the end of 2020, Lionrock's client base was 47 percent men and 53 percent women, the closest to 50/50 gender distribution of clientele in Lionrock's history. Contributing to that change, Lionrock saw a 25 percent decrease in enrollment of women (of all ages) between Q3 and Q4, which is interesting given the 865,000 women who dropped out of the workforce in September 2020, due to many factors tied to the pandemic. Still, both women and men enrolled at more than 2X the rate of 2019, with men surging at almost 140 percent versus women at 109 percent, once again showing that growth in the category year-over-year was significant.
This data may or may not indicate past, present or future trends in recovery– we'll continue to monitor the patterns to see what further information we can gleam. But this we know for sure: And now it seems the rest of the world is learning this too.