As Pandemic Continues, Attendance at Online Recovery Meetings More Than Doubles
By now it is well-documented that the coronavirus has brought with it a so-called "silent pandemic." A year plus of stress, sickness, isolation, and uncertainty has taken a toll on the country's mental health. In fact, according to the Center for Disease Control (CDC) symptoms of anxiety disorder and depressive disorder increased significantly in the United States during April–June of 2020, compared with the same period in 2019.
As the global pandemic rages on, more and more people are attending online recovery meetings. According to Lionrock, the leader in telehealth services for substance use disorders (SUDs), attendance at online meetings has doubled.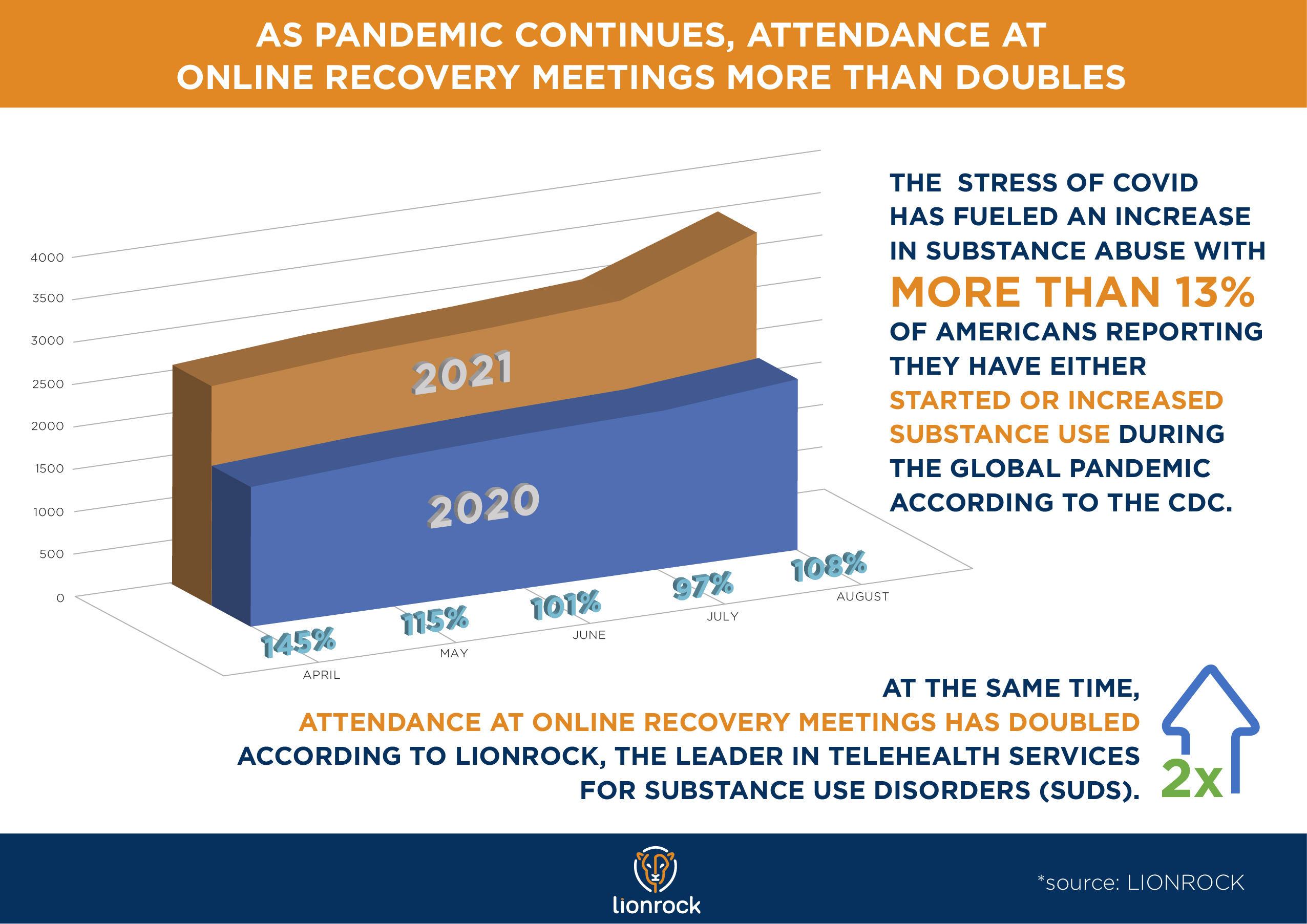 We know there is a strong correlation between mental health and substance abuse. According to the National Survey on Drug Use and Health, 9.2 million U.S. adults experienced both mental illness and a substance use disorder in 2018 (the most recent year for which data is available) and adverse environmental factors, such as those brought on by the pandemic, are common in both diseases. In fact, more than 13 percent of Americans report they have either started or increased substance use during the global pandemic, according to the CDC.
We also know that online recovery has been, and continues to be, the most private and successful way to get help with substance abuse. That's because:
Telehealth is one of the most effective ways to reach and treat people with SUDs. It's also one of the most effective ways to support life in recovery.
Online recovery is affordable. Even for people without health insurance, private pay packages are available that fit most budgets.
Online recovery is private. People can seek and receive HIPAA-compliant treatment from the privacy of their home.
Online recovery is flexible. There is no need to build in commute time and it allows for appointments at any time of day.
Online recovery is preferred by many. According to a Lionrock Recovery survey, fifty-two percent of people in treatment who attended in-person meetings pre-COVID, say they will only attend online meetings when restrictions are lifted.
Find a meeting
Lionrock offers free recovery support group meetings including 12 step meetings, online AA meetings, and alternatives to AA. To learn more and to find a meeting visit Lionrock.Life.